Creative People - Marc Kaye
The Y (Chromosome) Files: A body for the burbs. A mind for the asylum.
By Marc Kaye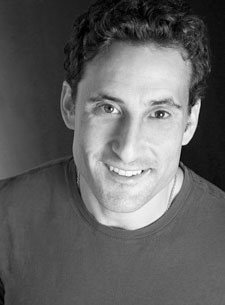 05/01/13
don't be a mother
By Marc Kaye & Special Guest Author Chris Rich
Mother's Day is upon us once again - a day to commemorate the women in our lives who at some point, made the plunge, didn't look back, and raised us to be the outstanding, well-balanced citizens that we are today. Or, for some of us, these are the valiant women who decided to simply "accept us for who we are", in most cases - still citizens but maybe not so well balanced.
As a gift to all mothers out there, I am taking the opportunity, through this column, to provide moms out there with some sound advice - but not just any advice. You are about to hear, for the first time only, pre-eminent words of wisdom from not only a male point of view, but also a female point of view - featuring one of the areas funniest females, Chris Rich - a nationally recognized comedian and all around smart, nice, funny hip chick!
In fact, being that it's Mother's Day and all, I'm even going to be non-patriarchal about it and let my F3 (Funny Female Friend) provide her advice first. Take it away, Chris!
Marc has asked me to sluice the raging river of my estrogen into a navigable flow of sisterly advice for those about to undergo the annual Passive-Aggressive Posedown that is Mothers' Day. Please can we immediately dispense with any HallMarxist Propaganda and get to the heart of What Really Matters - The Gifts. The best advice I can offer here is wrapped in the tattered wisdom of my Biggest Mother's Day Mistakes, my faux ma's, if you will. My Worst Mother's Day Gift Idea Ever: The Surprise Intervention. This actually may have worked its usual compassionate magic had I not decided to initiate it right there in the middle of the Mother's Day Brunch at The Four Seasons. In my defense, I did wait till coffee and dessert and, trust me, the therapist was way cheaper than three more pitchers of Bloody Marys. Still, same therapist did point out that the situation may indeed have been more effective had I myself remained anywhere near sober. These are details Intervention Planners leave out that I would consider crucial information.
Of course I'm kidding, my Mother is practically a tea-totler, she has no vices that I've ever experienced except overgenerosity and I worship the ground she staggers on. No, seriously, she's great in every way. It is in fact she who gave me the best Mother's Day advice ever - just be with her. Your Mom just wants to be with you. Full disclosure, she wants to be with the three-year-old version of you who used to look up at her with undiluted adoration because she was your whole world. So be with her like that on Mother's Day. Need her, and let her know that in a hundred ways. You do need her, after all, so just admit it to yourself and enjoy the miraculous vulnerability the two of you enjoy. Because every woman knows What She Fears Most and also knows that it is inevitable: that, someday, she will turn into her Mother. I will never forget the exact moment I realized I was turning into my Mother, it was traumatizing and terrifying yet understandable that I would turn into her, it was a blindingly sunny day, we each were squinting in different directions, and we were both going for the same parking spot. When I turned into her passenger side and nicked the door the shock was awful. But people had always warned both of us that we're inattentive drivers and that it was inevitable.
But, seriously, just be with her on Mother's Day. And I mean really be with her. Listen to her stories, ask her advice, give her worshipful, devoted attention, as if you were Pope Francis and she a pair of dirty feet. My sense of humor also comes from my Mom, so I invite you to blame her for it. I know I'm infantilizing myself by blaming others but my Mom taught me that as well. She infantilized all of us and still does. When we were infants she fetusized our behavior. When we were fetuses, she probably somehow got us to act like zygotes in that never-ending maternal attempt to freeze us at the time we needed her the most. So give her a taste of that old adoration, show her that she was a great Mom because she taught you how to be a great, loving human being. Show her that you paid attention, show her that the little girl or boy in you still worships that beautiful young Mom and that happy little kid you two can conjure with each other's touch and whispers and laughter. Just be with her. That's all that truly matters and all that will ever matter. Show her you know that and she'll know what a great job she did with you. Remember: (for crying out loud, for one day at least, would it kill you?): Endless forgiveness, tolerance of and wonder at her humanity. Might as well practice these things, my sis. After all, you'll need to have developed this skill set of insightful patience, well-earned wisdom and fiercely loyal love for your own use on yourself, when you, inevitably - with any luck - turn into her.
Thanks Chris. All I can say is whoa! Not only did you make me laugh but you also managed to get me to dust off the old Thesaurus. Obviously the name of the column, "The Y Chromosome Files" didn't give it away that I try to keep things at a reasonable literary level – you know 3 syllables max.
Anyway, now for the "Idiot's Guide to Mother's Day" from a guy's point of view: Let's be honest - the word "mother" doesn't always connote images of maternal warmth and splendor, particularly when coupled with other choice words that make up 90% of the dialogue for most movies seen on Spike TV.
Even at its best interpretation, the word "mother" invokes images of the English countryside and sipping tea in a white V-neck sweater – three things I have never seen, done nor owned. "Mother, do pass the Earl Grey." "Mother, I do believe the baroness is expected at high noon." "Mother, marrying one's cousin seems not only reasonable but a brilliant way of ensuring that we do not dilute the genetic disposition of our long standing monarchy."
I propose a sweeping change reflective of not only the 21st century but also the changing role of women everywhere. Yes, I am an enlightened man of today's world – both recognizing the increasingly important role and contribution of strong females everywhere and equally intimidated and frightened by them at the same time. In a nutshell, this is me kissing up to Mother Earth and all her daughters. It's time to Lady Gaga this holiday.
I hereby pronounce the 2nd Sunday in May as EstroPalooza Day. Yes – the incredible marriage of Estrogen, that female hormone responsible for everything from Spanx to equality in the workplace and Lollapalooza – one of the coolest, modern musical festivals this century.
Can't you just hear it?
"Happy EstroPalooza, Mom!"
"Why sweetie, if I wasn't busy changing the world, I'd come over and give you a big hug right now."
"Don't worry, Mom – rock on!"
"I will my little monster!"
Now that's one bad mother.
Happy EstroPalooza Day to all the Rockin' Moms out there!
Marc Kaye is a writer, comedian, songwriter and marketer who would gladly trade in writing about every single thought that arises in his head for some serious athletic skills. You can find out more about Marc at www.marc-kaye.com and follow him on Twitter @MarcKaye1.