5 Local Treasures You May Not Have Thought to Visit - Part 1
There are lots of cool things to do in and around our home towns. Here are a five of our favorites that we here at BucksCountyAlive.com love to visit on a nice, sunny day. Maybe we'll see you there!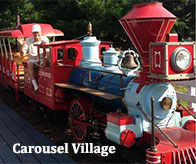 Carousel Village
591 Durham Road (Rt 413), Wrightstown (map it)
Carousel Village is a great little treasure for the wee ones in your life. They have a beautiful carousel and a really cool steam train ride through their 45 acre property. You'll have a friendly conductor who will introduce you to resident animals, including miniature goats, emus, elpacas, llamas, pheasants, and turkeys! After your train ride, you can enjoy some yummy, locally sourced ice cream and the adults will enjoy a little shopping in the gift boutique. The carousel and train rides are weekends from 11-5 (weather permitting). Visit website >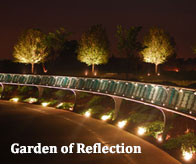 Garden of Reflection 9-11 Memorial
1950 Woodside Rd., Yardley (map it)
You may have heard how beautiful the Garden of Reflection is, but you really can't appreciate it until you visit in person. It is an amazingly touching and peaceful experience. Walk the winding paths, or sit next to the beautiful fountain. It is really worth a visit. It's even more beautiful at night, when the fountains and trees are illuminated. Visit website >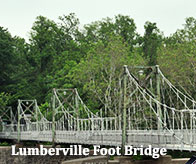 Lumberville - Raven Rock Bridge & Bull's Island
Lumberville (map it)
Take a lovely walk across the river on the foot bridge from Lumberville. The bridge takes you right into Bull's Island State Park in NJ which has a little playground for the kids. Parking is not easy on the PA side in Lumberville. If the Lumberville General Store is closed, there is parking across the street from the store. There is also a small area to pull over on the north side of the bridge. Otherwise, you could drive across the river into Stockton, then head north up 29 to Bull's Island State park where there is ample parking. Walk across to Lumberville to enjoy the quaint little town, then walk back. Note that there are public bathrooms in the building at the park - don't be fooled by the wooden outhouses next to the playground!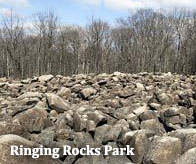 Ringing Rocks
Ringing Rocks Road, Upper Black Eddy (map it)
This seven acre park contains a great field of boulders, most of which resonate like bells if struck with a hammer or another rock. And they ring with different tones, so bring the kids and start a family symphony! This park also boasts the largest waterfall in Bucks County, so you can spend some time enjoying nature.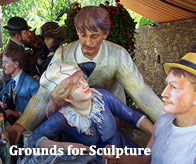 Grounds for Sculpture
18 Fairgrounds Road, Hamilton, NJ (map it)
Stroll through a park where art history comes to life! Grounds for Sculpture is a 42-acre sculpture park and museum with beautiful landscapes, amazing artwork and a very tasty (but pricey) restaurant. The park is filled with sculptural recreations of Impressionist paintings set in a magical garden landscape. Paths guide you through open fields, hidden ponds and shaded tree canopies. There are also special events throughout the year that are worth checking out. If you go, be on the lookout for unique sculptures hidden in plain view throughout the landscape as you get closer to the park! Visit website >